PS-36 VDSL2 CPE
POTS Splitters
In Stock at CKEY Networks and available to ship next day from your order. Our price is $ 68 each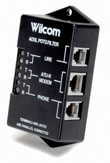 PS-36
Wall-mount VDSL2 POTS Splitter
The Wilcom PS-55 MDx ADSL2+ POTS Splitter is a passive low-pass filter designed to provide POTS Service in concert with ADSL Technology. The device blocks High Frequency (20 KHz - 1 MHz) energy from interfering with POTS equipment. The PS-55 MDx contains 24 ADSL2+ Ports and can be ordered as a customer premise (CPE) Master Splitter or a Central Office (CO) Splitter.
Both solutions are ideal for Multi Dwelling and Multi Tenant environments. Each unit is available with BIX type connections or 110 type connectors for direct wiring connections of the LINE, POTS and DATA Connections.
The unique footprint of the PS-55-MDx is similar in size to a standard M-66 punch down block making it ideal for Wall Mounting applications.